Inpatient Physical Rehabilitation: What to Expect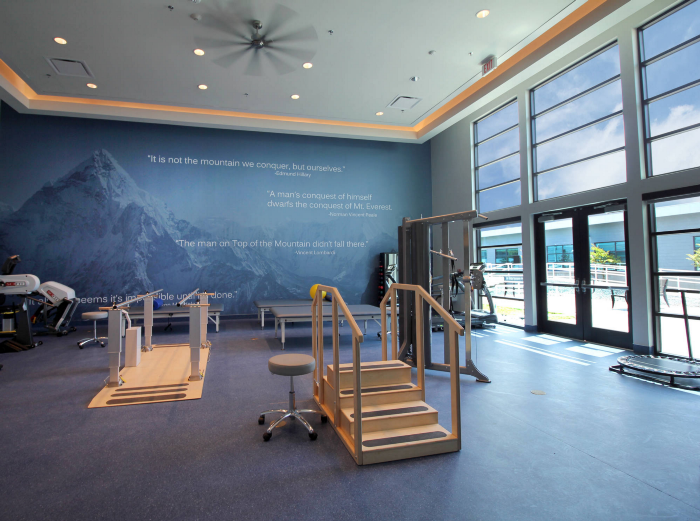 Typically, after surviving a defining injury such as a stroke, spinal cord injury or an amputation, your physician will recommend inpatient physical therapy. This recommendation comes as a suggestion to help you get back to living independently as soon as possible. What should you expect with inpatient physical rehabilitation?
At Everest Rehabilitation Hospitals, we focus on an interdisciplinary team approach involving the patient and family from day one. This means that from the beginning, you have an entire team of physicians, nursing staff, and therapists working with you and your family helping you to recover at a pace that best benefits you.
I've been admitted to Everest Rehab Hospital, now what?
Once the initial meetings have taken place, the healing begins! This starts with multiple evaluations performed by the staff in order to understand where you are at in relation to the goals you are looking to achieve. This is a great time to get to know your entire staff as well. We provide one to one therapy, five to seven days a week, daily medical visits by rehab physicians and a strong nurse to patient ratio that contributes to the optimal outcomes and the highest quality of care. Every patient is unique, but the average stay is usually between 10–14 days.
Who is on my team at Everest Rehab Hospital?
The experts working with you daily work as a team to contribute to your speedy recovery. It can vary as physical rehabilitation is a personal journey. Your experience may include the following:
Rehabilitation Nurses will provide 24-hour care. Often, they are a good resource for questions you or your family may have as well.
Physical Therapists will work with you one on one with a primary focus to improve movement. They will guide you through exercises that will improve not only mobility but balance, strength and range of motion. You will find that our physical therapists will be interested in getting to know you personally and gear sessions based on the activities you most want to get back to.
Occupational Therapists will help you gain independence in specific life skills such as independently getting dressed, bathing, eating, cooking, getting in and out of a car and personal grooming. They too will give you one on one time.
Speech-Language Pathologists will assist you in treating skills in communication, hearing, problem solving and memory. They will also help you with any issues regarding swallowing and eating. Again, one on one treatment time will be given.
Where do I work with my team?
State of the art equipment fills two gyms located right in the hospital. All sessions will take place in one of those gyms or private offices as needed. There is never a need to leave Everest Rehab Hospital during your recovery time.
Is family welcome to visit me at Everest Rehab Hospital?
Absolutely! Family is a BIG part of your recovery. We strongly encourage family visits when possible. Our café serves high quality delicious meals they can enjoy with you as well. There are even occasions where they can observe you in action during your therapy sessions. Family is also an important part of your discharge to ensure you have adequate support once you are back home.
What do I bring with me to Everest Rehab Hospital?
Each of our inpatient facilities ensures you will have the highest quality comfort including a spacious private room filled with natural light, a comfortable adjustable bed, quality linens, private bathroom, a 55-inch television with cable, Wi-Fi access, plus so much more. However, because you will be living at Everest Rehab Hospital through recovery, it is important that you feel at home. Be sure to bring 10 day's supply of:
Comfortable shirts, pants and/or shorts
Pajamas
Undergarments
Comfortable shoes and socks
Robe or Housecoat
Light Jacket
Personal toiletries, phone charger, iPad, eyeglasses, hearing aid, etc.
Will I need to plan my own meals?
Not at all. All your meals, snacks and beverages are provided for you. Beyond that, Everest Rehab Hospitals have nutritionists and dieticians on staff to cater to any specific dietary needs.
Experiencing a traumatic injury or illness can be a stressful and scary time. At Everest Rehab Hospital, we are eager to help all our patients reach their personal goals and get them back to living as quick as possible. If you find yourself or a family member in need of inpatient physical therapy, we are here for you.